OPTIMIZED FOR MEASUREMENT
Accurate: Equivalent or better than fan aspirated radiation shields.
Maintenance free & bugs free: No cleaning required and spiders don't like it!
Full protection for your sensor: Spiral vortex flow sheds rain, snow, dirt & sand to the outside, keeping your sensor clean.
VERIFIED BY THE ROYAL METEOROLOGICAL INSTITUTE OF BELGIUM
Designed for uncompromising measurement accuracy and sensor protection from rain, snow, dirt & sand.
ultimate precision
Double louver design eliminates heat transfer

Light absorbent black inner louvers

UV & impact resistant Titanium white outside

Hydrophobic plastic.

Maintenance free; not affected by soiling and dirt.

No flat surfaces = spider web free on the inside.
APPLICATIONS
Professional weather stations (AWS)

Industrial monitoring

Meteorological applications

Snow guns

Road weather stations

Ships & coastal weather stations

Buoys
Optimized for applications where maximum sensor protection is required for cost-conscientious customers.
SUPERB ACCURACY & protection
Slotted louver design reduces heat transfer

Large inner volume (Diam: 65mm, Height: 150mm)

UV & impact resistant Titanium white outside

Hydrophobic plastic.

MeteoShield does not like bugs and bugs don't like it either.
APPLICATIONS
Weather stations (AWS)

Industrial monitoring

Building management systems

Smart cities

Agriculture

Home weather stations

Ships & coastal weather stations

Buoys
CUSTOMER TESTING AND COMPARISONS
HELIX TECHNOLOGY - VORTEX FLOW
Helical radiation shield is the latest technological advance in multiplate radiation shield design.

The spiral air flow pattern inside the shield maximizes ambient air flow around the sensor which is the secret to its superb performance.

Provides superior protection of the internal temperature and humidity sensors from the elements and from the unwanted effects of solar radiation on measurement of air temperature.
MORE ACCURATE DURING THE DAY
Protects from short & long wave solar radiation

Highly accurate in low wind conditions.

Equivalent to the best Aspirated Radiation Shields
MORE ACCURATE AT NIGHT
Maximum protection from outgoing long-wave radiation

Minimizes radiative cooling on clear nights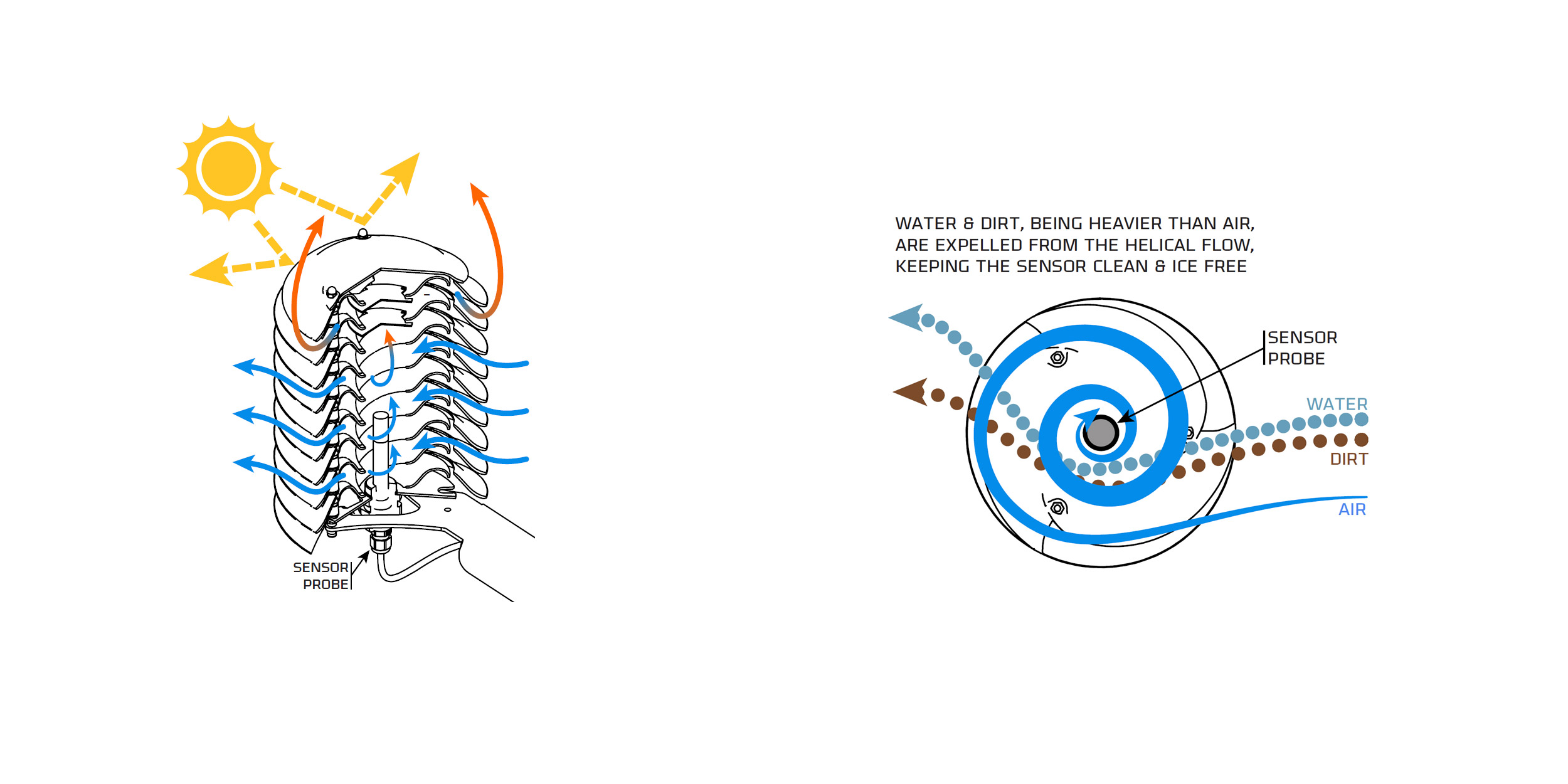 DESIGN PATENTED & REGISTERED INTERNATIONALLY
EUIPO 002979179-0001...0006
PROTECTION NOT ONLY FROM THE SUN
Compared to multi-plate radiation shields (screens), helix also effectively protects internal sensors from water spray and sensor dirt buildup which are the causes of unwanted evaporative cooling and sensor errors.
EFFECTIVELY PROTECTS YOUR SENSOR FROM:
RAIN - angled shape drains water and protects from wind blown rain

WATER SPRAY - spiral airflow deflects sea salt spray & road spray from passing cars away from sensor

SNOW - shields sensor from blowing snow and ice

FREEZING RAIN & FOG - outer louvers catch water particles and deflect them away from the sensor

ICING - reduces winter sensor icing from supercooled fog

HAIL - impact resistant material shields from hail and flying debris

DIRT - steers away dust and dirt from the internal sensor during stormy weather

SAND - protects sensor from direct sand & dust impact during dust storms
CONSTRUCTION
Constructed of stainless steel frame.
Each twist of the radiation shield is made up of 3 helical (spiral) pieces.
Each louver is made of UV, impact resistant and hydrophobic plastic.