Precise enough for the professional, easy to use for everyone.
Freedom to measure anywhere, accurately.
Now featuring an open message format - Build your own WEATHER app with MeteoHelix weather data
Automatic, Maintenance Free, Research Grade Accuracy
Accurate: Double-helix protection & precision.
Maintenance free: Solar powered, no cleaning required!
One year of prepaid data included: SigFox data reliability with automatic data logging.
MeteoShield and MeteoHelix are protected designs & registered
Maximum sensor protection and accuracy for cost-conscientious customers. Smart city wireless SigFox & LoRaWAN connectivity. The smart, smart-city home weather station.
SUPERB ACCURACY & protection
Patented helical technology offer high protection and very good accuracy.

Titanium white outside is maintenance free, UV and impact resistant.

No setup required - solar powered & wireless requires no setup.
WIRELESS APPLICATIONS
Smart city street level sensor

Replaces your home weather station

Replaces personal weather stations

No-power, no-plug, no-wire required.

True maintenance free sensor for smart cities

True maintenance free sensor for precision agriculture

Buoys
Professional durability and measurement accuracy. WMO precision with unsurpassed sensor protection from rain, snow, dirt & sand. Smart city wireless SigFox & LoRaWAN connectivity.
ultimate MAINTENANCE FREE precision
Patented double-helix technology offers unsurpassed measurement stability and precision.

UV & impact resistant Titanium white outside is truly maintenance free.

Impact resistant to hail and spider deterrent on the inside.

High-reliability of SigFox data transmission.
WIRELESS APPLICATIONS
Smart city street level research-grade sensor

Industrial high-density air temperature monitoring

Research climatic monitoring station

Ski slope and snow making

Ground frost warning network

Economical precision agriculture

Economical buoy sensor solution

Reliable coastal sensor network
HELIX TECHNOLOGY - FOR SMART CITIES
Helical radiation shield is the latest technological advance in multiplate radiation shield design.

The spiral air flow pattern inside the shield maximizes ambient air flow around the sensor which is the secret to its superb performance.

Provides superior protection of the internal temperature and humidity sensors from the elements and from the unwanted effects of solar radiation on measurement of air temperature.
MORE ACCURATE DURING THE DAY
Protects from short & long wave solar radiation

Highly accurate in low wind conditions.

Equivalent to the best Aspirated Radiation Shields
MORE ACCURATE AT NIGHT
Maximum protection from outgoing long-wave radiation

Minimizes radiative cooling on clear nights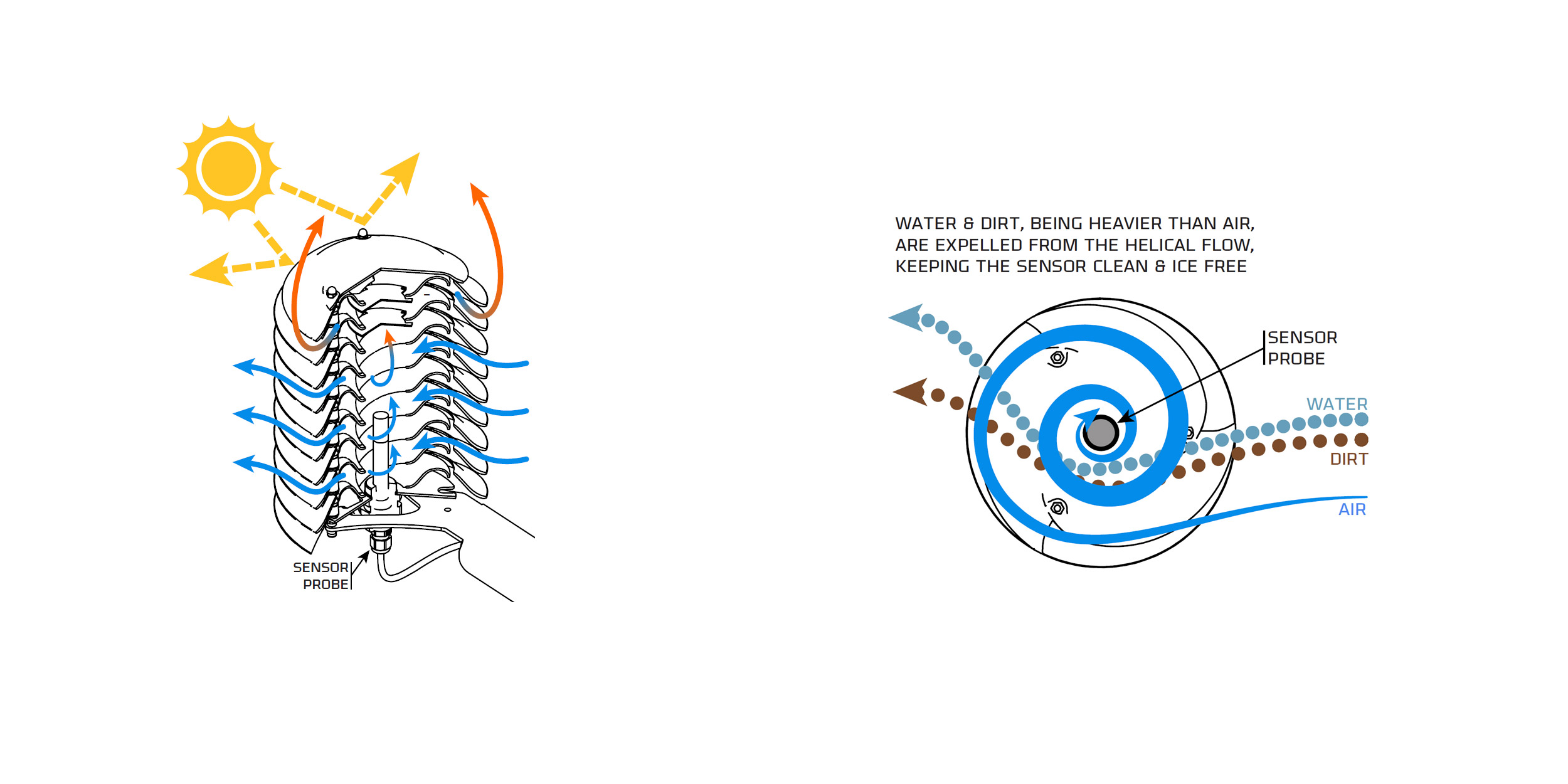 CITIES REQUIRE PROTECTION NOT ONLY FROM THE SUN
Compared to multi-plate radiation shields (screens), helix also effectively protects internal sensors from water spray and sensor dirt buildup which are the causes of unwanted evaporative cooling and sensor errors.
EFFECTIVELY PROTECTS YOUR SENSOR FROM:
RAIN - angled shape drains water and protects from wind blown rain

WATER SPRAY - spiral airflow deflects sea salt spray & road spray from passing cars away from sensor

SNOW - shields sensor from blowing snow and ice

FREEZING RAIN & FOG - outer louvers catch water particles and deflect them away from the sensor

ICING - reduces winter sensor icing from supercooled fog

HAIL - impact resistant material shields from hail and flying debris

DIRT - steers away dust and dirt from the internal sensor during stormy weather

SAND - protects sensor from direct sand & dust impact during dust storms
CUSTOMER TESTING AND COMPARISONS
CONSTRUCTION
Constructed of stainless steel frame.
Each twist of the radiation shield is made up of 3 helical (spiral) pieces.
Each louver is made of UV, impact resistant and hydrophobic plastic.