UPGRADE FOR DAVIS 7714 SHIELD
& 7744 VP2 ASPIRATED SHIELD & SENSOR
The patented Helix will reduce your temperature error in the sun by over 1°C (2°F).
No power required.
Just plug-in our PTFE shrouded sensor into your VP2 for an immediate benefit.
Sensor is fully protected from the sun and rain by MeteoShield.
Spiral vortex flow sheds rain, snow, dirt & sand to the outside,
keeping your sensor cleaner.
We are not affiliated with Davis Instruments. We are offering Davis weather station user requested improvements/add-ons.
Replacement sensor with professional grade porous PTFE filter inside the MeteoShield Professional. We are working on bringing you an affordable solar radiation shield kit designed for Davis weather station professional and semi-professional users. Expected release date is set at September 2017.
INDEPENDENT COMPARISON TEST RESULTS
MeteoShield Professional naturally aspirated:
Davis Vantage Pro 2 with day time fan ventilation kit:
mean T: 75.9°F | mean min. T: 68.5°F | mean max. T: 83.1°
mean T: 76.1°F | mean min. T: 68.5°F | mean max. T: 83.3°F
MeteoShield Professional naturally aspirated:
Davis Vantage Pro 2 with day time fan ventilation kit:
mean T: 24.4°C | mean min. T: 20.3°C | mean max. T: 28.4°C
mean T: 24.5°C| mean min. T: 20.3°C| mean max. T: 28.5°C
HELIX TECHNOLOGY - VORTEX FLOW
Helical radiation shield is the latest technological advance in multiplate radiation shield design.
The spiral air flow pattern inside the shield maximizes ambient air flow around the sensor which is the secret to its superb performance.
Provides superior protection of the internal temperature and humidity sensors from the elements and from the unwanted effects of solar radiation on measurement of air temperature.
MORE ACCURATE DURING THE DAY
Protects from short & long wave solar radiation
Highly accurate in low wind conditions.
Equivalent to the best Aspirated Radiation Shields
MORE ACCURATE AT NIGHT
Maximum protection from outgoing long-wave radiation
Minimizes radiative cooling on clear nights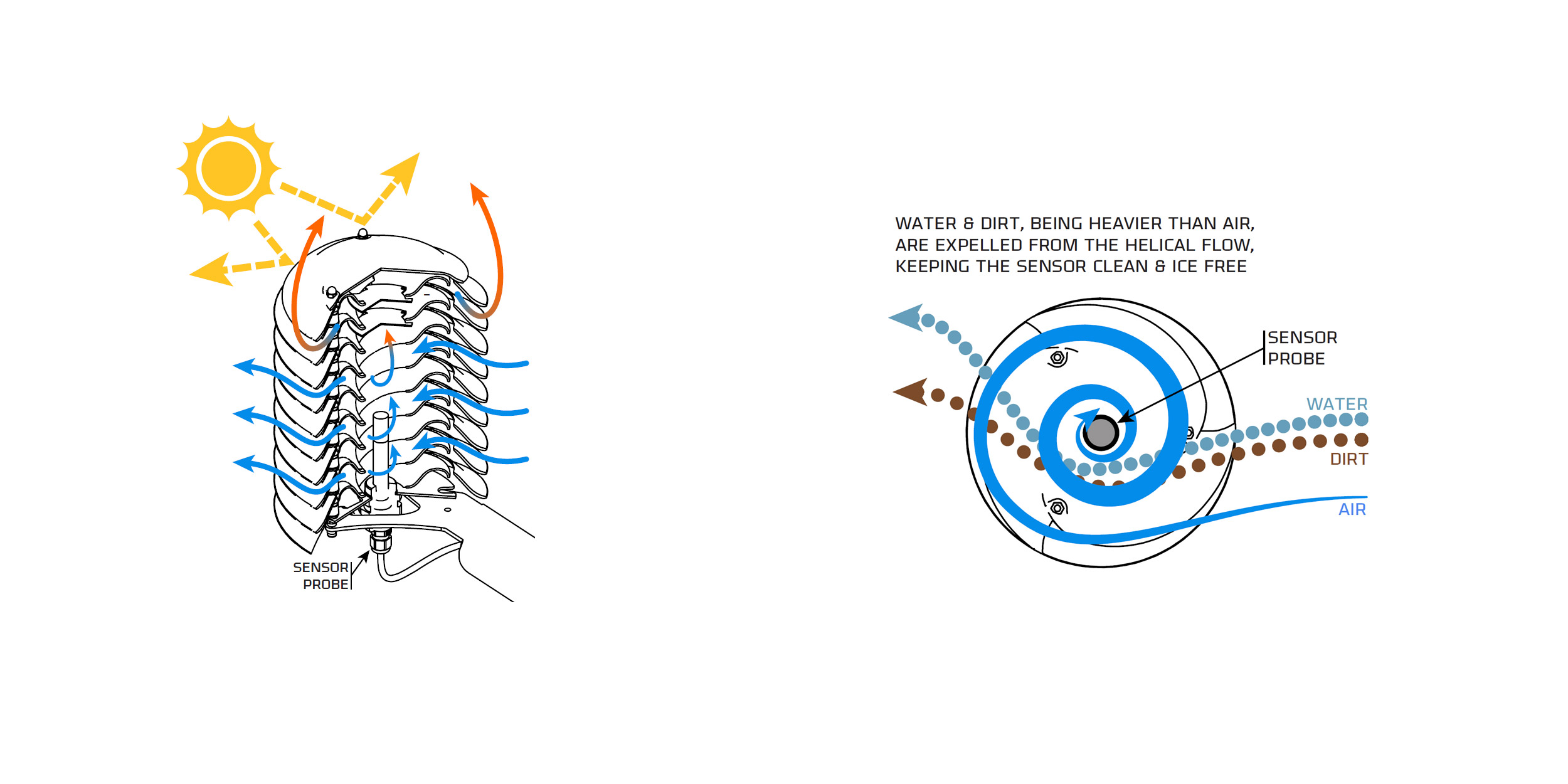 PROTECTION NOT ONLY FROM THE SUN
Compared to multi-plate radiation shields (screens), helix also effectively protects internal sensors from water spray and sensor dirt buildup which are the causes of unwanted evaporative cooling and sensor errors.
EFFECTIVELY PROTECTS YOUR SENSOR FROM:
RAIN - angled shape drains water and protects from wind blown rain
WATER SPRAY - spiral airflow deflects sea salt spray & road spray from passing cars away from sensor
SNOW - shields sensor from blowing snow and ice
FREEZING RAIN & FOG - outer louvers catch water particles and deflect them away from the sensor
ICING - reduces winter sensor icing from supercooled fog
HAIL - impact resistant material shields from hail and flying debris
DIRT - steers away dust and dirt from the internal sensor during stormy weather
SAND - protects sensor from direct sand & dust impact during dust storms
CONSTRUCTION
Constructed of stainless steel frame.
Each twist of the radiation shield is made up of 3 helical (spiral) pieces.
Each louver is made of UV, impact resistant and hydrophobic plastic.