EasyLogGSM - Wireless Data Logger by BARANI DESIGN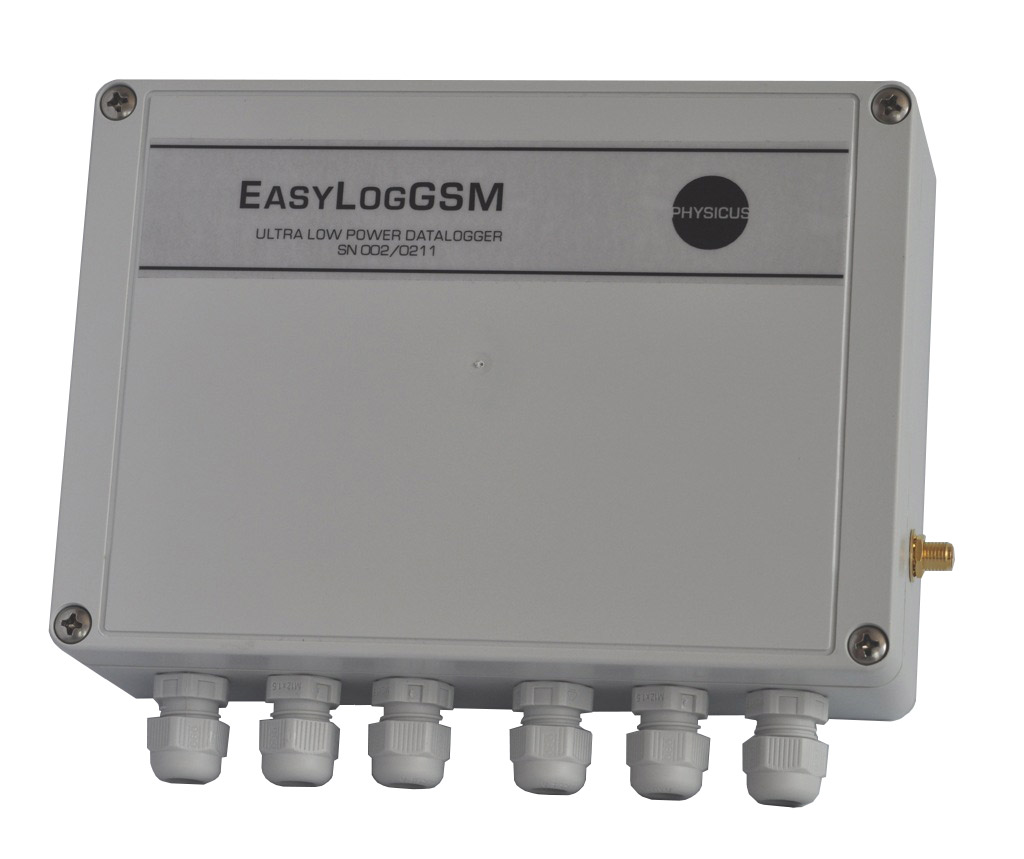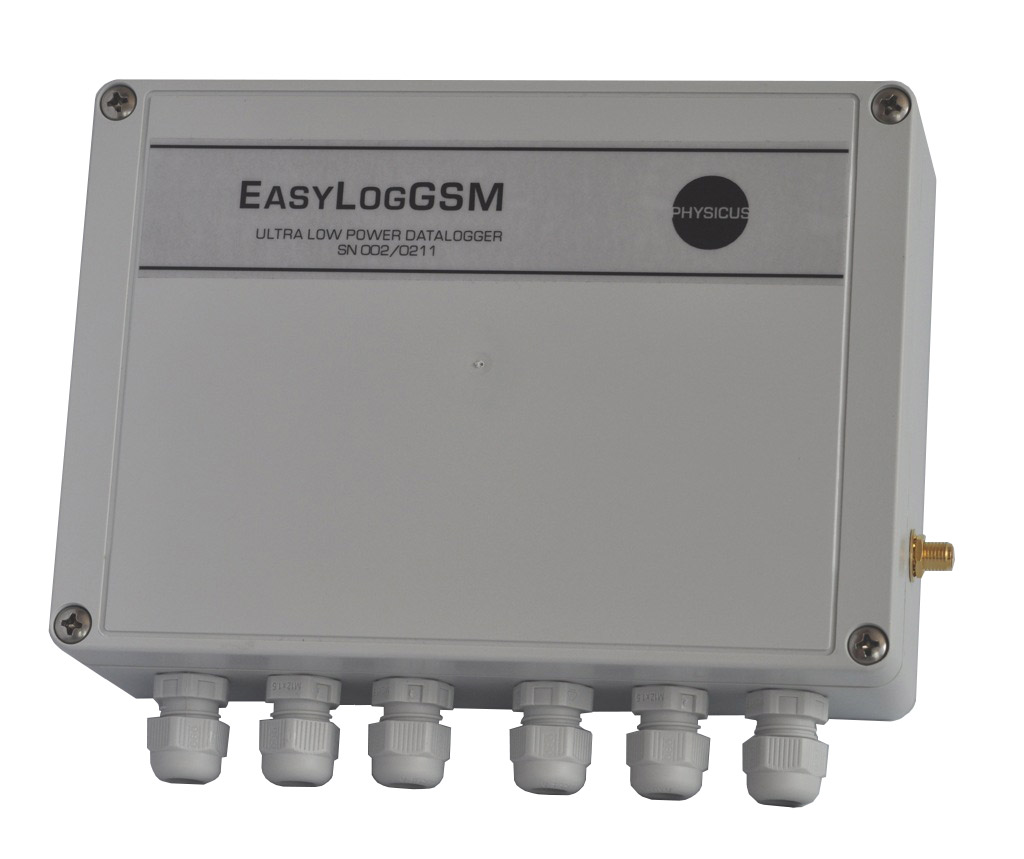 EasyLogGSM - Wireless Data Logger by BARANI DESIGN
High-reliability Wireless GSM data logger for automatic weather stations AWOS
Pre-Configured for sensors:
EasyLogGSM data logger is based on an ultra-low power microcontroller combined
with high precision analog-digital converters and real-time multitasking
operating system. This ensures flexible and reliable continuous operation with
long battery life and system reliability.
RELIABILITY
Built-in watchdog timers and low-level intelligence ensure reliable operation which has been verified over the years.
SENSOR INTERFACE INPUTS
Analog sensor front end offers 4 inputs with 12 bit resolution (relative humidity, wind direction...) and 4 inputs with 24 bit resolution for precision measurements (temperature, solar radiation, pressure...).
Each of the 4 digital inputs can be user configured to measure frequency (wind speed), time period (sunshine duration) or as a counter (rain gauge).
In addition to the serial RS-232 data port for connection to PC or 3rd party devices, this data logger features a user selectable RS232/485 port for connecting smart sensors and other intelligent devices.
All inputs are software configurable and offer basic statistics - average, minimum, maximum and standard deviation. 16 user defined polynomes (polynomials) are used for calculation to convert raw sensor values to engineering units.
AWS POWER MANAGEMENT
12V Lead Acid (Pb) battery management is provided on board. Overcharge and deep discharge protection is ensured.
Power source choices include AC/DC Power Supply, Solar or any DC source in the range of 4-20V.
MEMORY & DATA TRANSFER
Internal memory of about 4MB and SD memory card are used for data recording and storage.
Real time clock with 3V lithium backup battery. Time precision is achieved by time synchronization once a day over GPRS network with worldwide time zones.
Remote data transfer is supported by software via email or FTP using integrated quad-band GSM/GPRS modem.
SENSOR INPUTS
Analog Inputs 8
• Single Ended (12bit) 4x 0 ... 2.5V
• Differential (24bit) 4x ±19mV ... ±2.5V
• Statistics Avg, Min, Max, StDev
Accuracy 0.1% SE | 0.05% DIFF
Input Noise cca 0.2μVef
Input Offset 0.5μV max
Digital Inputs 4
Input Range 0...2kHz
Configurable to:
• Frequency (wind speed)
• Time period (sunshine duration)
• Counter (rain gauge)
• Statistics Avg, Min, Max, StDev
PT100 Inputs 3 + 1 reference
• Ratiometric measurements
(for 4 wire PT100 precision connection)
• Excitation for PT100 cca 0.5mA
• Statistics Avg, Min, Max, StDev
Serial Sensors 8x (RS-485 or RS-232)
• Baud Rate 300...115kBaud
• Measurement Interval 1...3600 s
• Logging Interval 1...3600 s
• Statistics Avg, Min, Max, StDev
Communication ports 2
• RS232 data connection
• RS485 / RS232 selectable (8 sensors)
• Statistics Avg, Min, Max, StDev
Memory
Internal Memory 4MB
Data Storage Medium SD card (up to 4GB)
Realtime Clock
Time Synchronization via GPRS
Time synchronization frequency 1/day
Time Zone worldwide
Backup Battery 3V lithium
Indication 2 LEDs
Remote Data Transfer
Full support for GPRS email and FTP data transfer
Power Consumption
Sleep 40μA max
Measuring 7mA typ
Transmitting signal strength
dependent
Battery Management
Battery type 12V Pb (lead acid)
Deep discharge protection
Overcharge protection
Power Options
DC source with battery charging 5V ...12VDC
DC source without battery 4V... 20VDC
Solar power 12V system
Environmental Operating Range
Temperature Range -30°C ...+60°C
Protection IP65
Customization available per request
HOW TO CONNECT A PC TO THE WEATHER STATION VIA ETHERNET:
The RS-232 to Ethernet converter inside the weather station is configured as a Server, which is listening on Port 10001. It has a fixed IP address. IP address and port are both user configurable. (Example:192.168.0.100:10001)
The internal Ethernet converter starts actively listening on Port 10001 immediately after the weather station is turned on.
When it receives a request to connect from a DataPC via the Ethernet connection, together they create an open bi-directional data stream. (This connection can be verified by setting up a connection on 192.168.0.100:10001 in HyperTerminal on the DataPC.)
Weather station and DataPC are connected and sending live data. (In HyperTerminal you should see text messages is measured values.)
DataPC must collect the data that it receives.
In case of an interruption in the connection with the weather station, the connection will remain closed until it receives a request to connect from a DataPC.
OUTPUT DATA FORMAT:
Date Time Data1 Data2 Data3… CRLF
EXAMPLE:
07.06.2017 04:43:39 3.117 13.839 99.043 -61.000
If required, CSV data format can be set:
07.06.2017,04:43:39,3.117,13.839,99.043,-61.000